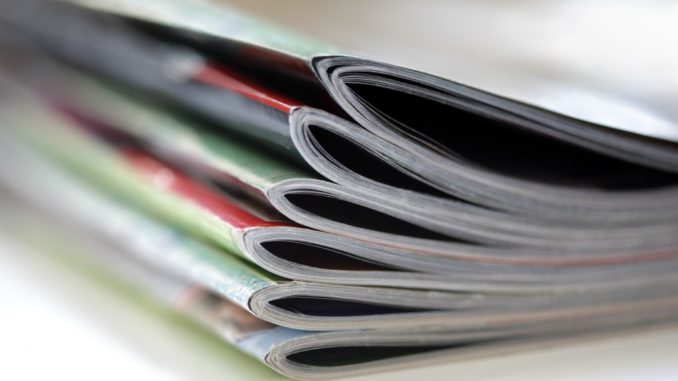 Notwithstanding shifting market conditions, some printed publications, including magazines, are still thriving. The Washington Post even has a daily circulation of nearly 357,000 (2015). Time Magazine has close to 2.35 million copies in circulation per issue. The New York Times has a daily circulation of 571,500.
You've been working for a printed publication yourself. You know the ins and outs of the business, from hiring good writers to managing the printing services for every issue. You want to take your career in a new direction and start your magazine publication. You're not thinking to compete with existing businesses with larger circulations. Instead, you want to focus on a niche market and provide content to a specific audience.
Even with your years of experience, you still have questions about the process of establishing your publication. The following ideas might help you go in the right direction:
Magazine Status
AARP The Magazine is the no. 1 in America, with a circulation of more than 23.42 million. The American Association of Retired People publishes it. Its content is all about aging. Its readership is estimated at 35 million.
The Lucky Peach quarterly food magazine was a niche publication and had an unbeaten run from 2012 until its closure in 2017. Advertisers are still using the printed channel, with publishers grossing $16.6 billion in revenue in 2016. Sixty-two percent of this revenue came from print advertising.
These are significant numbers and serve as excellent indicators of the potential of the business.
Initial Steps
Like in any business, your knowledge and experience will only take you so far. You need to do your research and come up with a sound business plan. Will you consider inviting investors? Will you remain a print-only publication? These are some of the questions you need to face.
From the Ground Up
There's a long list of items that you need to consider. It could get overwhelming at the start and might set you off-track. Here are four areas to focus on when starting your magazine from the ground up:
Find a niche market and content. You want to stand out or at least capture a specific demographic. AARP The Magazine is successful because it has a captive market and one that is based on its membership. While Lucky Peach eventually folded, it had a cult-like following because of its content. Find your niche and develop your content.
Hire the right team. If it's mainly all about the content and your demographic, then you need to get the right team that can create the right content, which targets a specific market. They need to be experts in their field and genuinely passionate about writing. Yours should be a team that can plan your editorial calendar at least for an entire year.
Decide on your revenue stream. Subscription and advertising are the two traditional ways to earn a profit. If you have millions of members like the AARP, then it makes sense to follow the subscription. You know the data as far as advertising is concerned. You can also get creative and publish advertorials. If a brand is popular with a specific audience, then you can write a story about that brand or product.
Go Digital. It's not an "or" situation. It's an "and" situation — plan for going print AND digital. You're going to create a website anyway, so make sure that digitizing your print content is part of the project.
The list is still long, but these main ideas can help you maximize your efforts in starting a magazine publication.