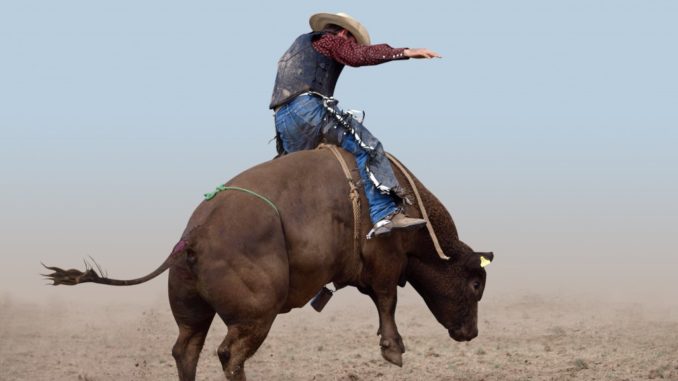 Bonner Bolton thought he was invincible. As a 28-year-old champion bull rider with a wholesome sensibility, nothing could go wrong. But there was more to him than his victories in the arena. His all-American good looks and dashing bull rider style charmed viewers nationwide, prompting fans to buy cowboy boots online.
Nothing was the same after he experienced a life-changing injury. During the Professional Bull Riders' season opener, Bolton dismounted his bull wrong, paralyzing him from the neck down.
But his experience shows that, while the best may fall down sometimes, it's still possible to find purpose and make life more meaningful.
A Fearless Rider and Raging Bull
On Jan. 10, 2016, Bolton was ready for the big win during the Professional Bull Riders competition.
He was already physically and mentally prepared to take on the aggressive bull called Cowboy Up. Popular for his strong bucks and fluid movements, Cowboy Up was a particularly difficult bull to ride. It's apparent from the YouTube video of the original broadcast that the bull was eager to escape the confines of his cramped pen.
The commentator even foreshadowed that the bull would give Bolton trouble. And they were fateful words, indeed.
Cowboy Up Throws Cowboy Down
Bolton was rising as a rookie and had his sights on topping the competition. And he was close: during the second round, the ride played out perfectly. He stayed in rhythm with Cowboy Up, and their movement was one. But for all the smooth moves, a real champion must make a steady dismount to maintain a high score. A poorly timed one can turn an exceptional ride into a wreck.
Bolton's dismount turned into one of the most dramatic wrecks in bull rider history.
Instead of shooting out to the side, Bolton bucked into the air before landing on his head. As he lay face down in the arena motionless, the crowd stayed silent as medical staff rushed in.
His C2 vertebra was broken, and he was paralyzed from the neck down.
The Road to Recovery
As Bolton rode in the back of an ambulance en route to the hospital, he told himself he was ready to die.
But that night, he felt a strange sensation in his stomach — the first feeling he had below his neck. And that would pave the road to regaining his sense of movement. Three days later, he would walk again.
For the next few months, he went through arduous physiotherapy. Eventually, Bolton regained full sensation of his body. But he decided that his bull riding days were behind him.
Bolton stayed active in the Professional Bull Riders community, and his good looks caught the attention of IMG Models where he started a modeling career. And in just a few months, he joined the cast of "Dancing with the Stars," where he and his dancing partner, Sharna Burgess, won fifth place.
And even though his situation seemed dire, his participation in modelling and the dance show fuelled his fire to recovery.
Bolton will live with the effects of his injury for the rest of his life. He may have suffered a terrible accident, but it taught him to see situations with a silver lining. More than just robbing him of his career, the Cowboy Up incident launched him into a new direction, where he could continue pursuing his passions.