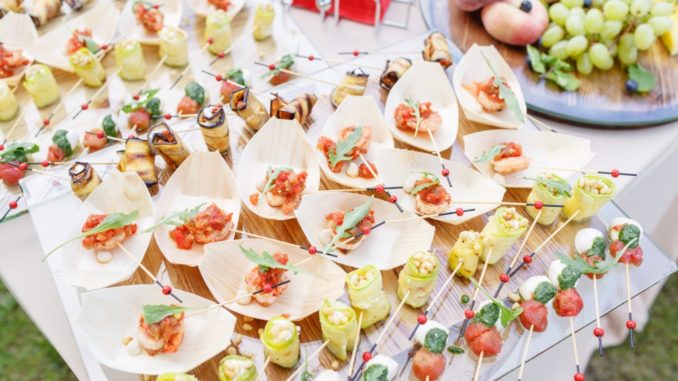 Many people are getting so inclined to boxed canapes now. Aside from being beautifully offered, they don't fail to impress party enthusiasts. You can always find the best canape catering service in Melbourne and other areas.
Perfect Times to Order Canapes
Most people prefer to unwind during the weekend to eliminate the stress and exhaustion from the long working days. There's one thing that can stun your friends and loved ones — giving them the best taste that satisfies their palate.
Do you know that canapes are best served in cold weather? The sweet and savoury taste will absolutely satisfy your friends and loved ones. Here are the perfect times when you must order these delicious treats:
Spending the afternoon with friends
Tea with peers
Girls night in
Mother's and Father's Day tea
Valentines night
Birthday celebration with froth
Business meeting
Wedding anniversary
Canape Box Options
People love to whip up group-oriented comfort food. But what's more exciting is to crave on something a little more upscale. Because canapes are so easy to eat, they're the perfect offering to people socializing over. These tasty recipes are transportable any time you want. You can choose from two options available:
Evening in style
Lunch or afternoon style
How They are Being Transported
To ensure that you'll receive them without ruining its beauty, they are transported using easy-to-carry bags. Insulated boxes contain them to preserve the taste and freshness.
All-time Favourite Canape Recipes
Small appetizers have picked up a lot of distinct definitions over the years. You can eat them in one or two bites. To serve them with the best appetizers, here are some canape recipes that you must consider during the gathering that guarantee extra glam and make a classy note:
Fig and black olive Tapenade Crostini
Chocolate and salted caramel canapes recipe
Mini Baileys Eclairs
Hot and sour marinated King Prawns recipe
Wasabi shrimp with avocado on a rice cracker
Salmon on mustard-chive with dill butter toasts
Cheese Fondue with crispy new potatoes
Mascarpone sprout canapes, along with smoked sesame seeds, pickled onion, and wine salt
Sardine Rillettes
Herbed biscuit bites with Ricotta cream and onion jam
Salmon Mousse
Persimmon Bruschetta
Creamy sausage stuffed mushrooms
Cheesy canapes with roasted tomato and anchovies
Shrimp, cucumber and curry cream cheese canapes
Cucumber canapes with creamed Feta, sun-dried tomatoes, and basil
Roasted cinnamon pear Bruschetta
Baked potato bites
Little mushroom pinwheels
Chickpea "Chole" canapes
Steak Tostada bites
Mushroom and caramelized onion Polenta bites
Tea egg salad
Toasted goat cheese Crostini with basil And red onion jam
Parmesan onion canapes
Goat cheese and baby beet canape with balsamic glaze and micro herbs
Potato leek canapes with goat, bacon, and cheese
Mushroom tartlets with garlic herb cheese
Pumpkin gruyere gougères
For a more exciting party, don't forget to include the soup shots recipe to keep your guests on their toes. They come in various flavours to suit the taste of your attendees. Make them something pretty to look at to make them more inviting. Impress your guests with outstanding recipes. By giving them something to nibble on, you will have a successful party where everyone gets enjoyment.