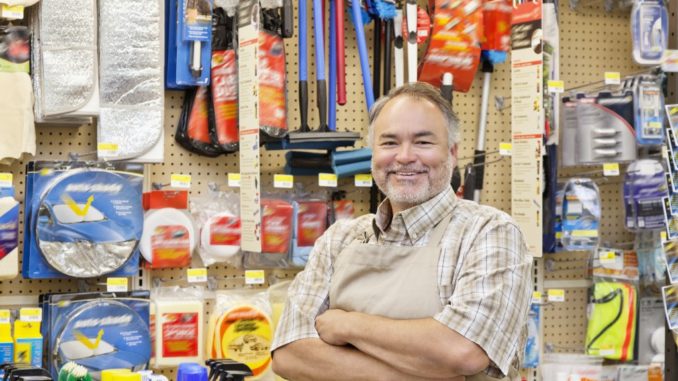 You work as an engineer for a construction company. You've led many local projects in and around the city. Sometimes, you would go out of town to meet developers. You're also tasked to look for suppliers, from those that provide heavy equipment to those that offer hardware items like doorknobs, padlocks or fastening support systems.
You've established a good rapport with many of these suppliers and have gotten to know their end of the business. Some have even broached the idea that with your knowledge and experience working in construction, you are in an excellent position to start your hardware store business.
After many years of being employed and with some cash stashed away, you're seriously considering the idea. Where do you start? What are the critical steps to take?
A Look at the Hardware Store Industry
In 2018, the total sales of hardware stores or home improvement centers in America amounted to $50.8 billion. As of May 2019, total revenue is at $26 billion but is expected to rise to the $50 billion levels by the end of the year. Although the number of businesses declined to 19,450, revenue projection for 2022 is estimated at $58.1 billion.
The cost of home renovation projects involving general contractors in 2018 reached $394 billion. By 2022, the forecast is $464.5 billion. More importantly, the sales growth of home improvement products is at 5.5%.
These numbers are encouraging and show that the demand for construction and hardware products remains high.
How Much Will It Cost?
The cost will be determined first by your decision to go independent or get a franchise. The former requires less money and gives you greater control over your business operations. The latter will require a franchise fee, but you will inherit a standard model for running the business.
The startup cost is estimated at less than $100,000. Budget around $50,000 to $75,000 just for the inventory. Your cap for the cost of rent should not exceed 30% of your total monthly revenue.
What to Do
There are, of course, the distinct steps, like doing your research, writing your business plan, and establishing your legal entity. That's already a given when starting your business. Here are some of the core areas to focus on when starting a home improvement business:
Find a good location. Whether it's a restaurant, book shop, or hardware store, the location is still crucial. But for a hardware business, your checklist for the site must include two things: a) ample parking, and b) a high volume of traffic. Part of your target audience are DIY homebodies, and they shouldn't be concerned with the issue of parking when hauling their purchased items.
Find friendly suppliers. Leverage your experience working with a construction company. Look for suppliers that will give you favorable terms on your purchase. This will help you manage your day-to-day cash flow.
Maximize store appeal. It's always the eye test first. Create an attractive and functional layout for your store, from the window display to the in-store shelves. Small grab-and-go items like light bulbs, doorknobs, padlocks, brushes, etc. should be prominently displayed.
Keep a good inventory. Stock up on fast-moving items like nails, cement, wood, etc. Determine items that require time to procure.
Get quality people. Hire people whom you will train to be highly professional in providing the service. They should be able to describe and locate the items in the store.
Lastly, be creative in marketing your business and providing service. Consider acquiring a pre-owned truck that you can use to deliver items to clients. Create an online presence to boost your brand.