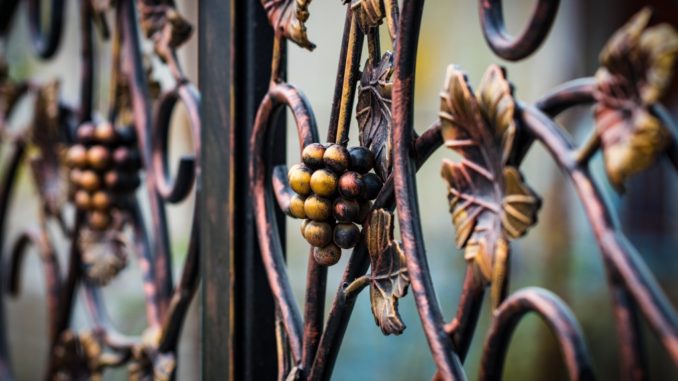 Nowadays, a curb appeal is one of the most sought after elements by property owners. Several materials and finishing alternatives now exist for beautiful fences and gates. None can, however, match the antique beauty of wrought iron.
Other than a decorative aspect, wrought iron introduces a largely unmatched durability and security level for your property. The natural black finish is one of the renowned options for wrought iron gates and fencing in Los Angeles.
This allows the displaying of your gate's metalwork through the finish and lends an antique look to your outdoors. The black finish is achieved by the wrought iron's heating and oxidation to create a subtle black color like that of hand-forged iron. This is then dipped in hot beeswax for a matte, buffed or soft sheen.
Unfortunately, this finish and others do not make your gates or fence failsafe. The wrought iron might still chip and become dull and boring. In these instances, here are the restoration techniques that can be used to get it looking like it initially did.
Forge Welding
This is a traditional technique of repairing and forming wrought iron. In forge welding, two sections of broken wrought iron railings will be brought together. High temperatures are used to forge them together before they are hammered to form a joint.
Forge welding will recover over 80% of the strength of your original fence or gate. In most cases, however, it is impossible to dismantle large pieces of your damaged railings for forge welding. As such, the restoration expert might recommend an in situ restoration alternatives.
Hot Set Riveting
In this traditional restoration method, round or conical heads in your fence or gate are heated until they are white-hot. These rivets are then placed into pre-drilled holes. The rivet will expand to fill the gaps in your deteriorating wrought iron and protrude to the opposite end of your fence or gate when hammered.
The hammering is done manually or using a hydraulic tool until it fills up the entire space. On cooling, the rivet will form a tight joint with the other sections of your damaged wrought iron.
Blast Cleaning
Several types of abrasive mediums will be used for blast cleaning of your wrought iron structure. The abrasives, in this case, are carried under considerable pressure and propelled towards the ironwork. Dry blast cleaning will be primarily used in sections where the wrought iron primarily serves a structural rather than decorative purpose.
At times, however, water will be added to the abrasives to cushion its effect when restoring delicate ironwork.
Manual Brazing
This is suited for non-structural small scale repairs. In manual brazing, a brass or bronze-filled rod with flux coating is used to heat the iron to around 6000 C. A filler will then be melted and applied near the point of repair with a gas flame. Manual brazing generates a tight joint in the damaged section of your rails.
With these alternatives, a deterioration of wrought iron should not keep you from getting the materials for your fence or gate. Thankfully, these restoration techniques are not expensive. You can thus keep your gates and fencing looking optimal without going broke.