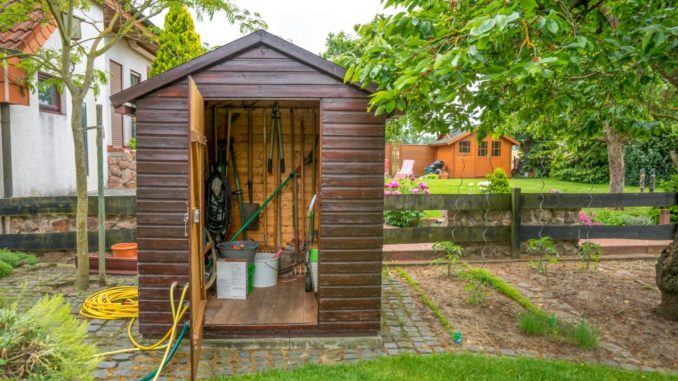 Whether you want to harvest fruits and vegetables or bunches of roses, you have surely accumulated several garden tools in your years planting in your backyard. Where do you put all these tools? Your shovel, spade, rake, trowel, garden hose, and hoe will take up space in your garage. Your stocks of fertilisers and potting soil may get wet from the rain or snow if you store them in one corner of the garden (and they are sore to the eyes, too).
What you need is a durable plastic garden shed where you can put all your gardening tools and accessories. You can easily get this shed from your local gardening store, hardware, and warehouse shops. Plastic sheds are great because buying one means that you won't have to fight over your partner for a space in the garage. You can just put the shed in one corner of the garden and use it to store your tools.
However, it is also important to keep the shed well-organised because you might get into accidents—cuts and bruises—if you don't know where to find what you're looking for.
Invest in Shelves and Boxes
The first thing that you need to do for your tool shed is to install shelves and boxes. You can repurpose old shelves, which is great to maximise this small space that you have. Shelves will allow you to use the vertical space of the tool shed. Put the things you normally use in the middle, which is at your eye level. Place the heavier and bulkier items on the level nearest to the ground. This will prevent accidents. As for things you don't normally use, put them on top of the shelves. The boxes and crates will further organise your shed. You can put loose accessories and tools in an enclosed box so that they don't get lost easily.
Put up Racks and Hooks
Spades, forks, shovels, and brooms are harder to store because they require a lot of space. They often fall, too, when knocked over accidentally. To prevent this from happening, invest in a rack that can hold these tools in an upright position. You'll be able to see the tools better, and you'll free up space, too.
You should also put up hooks on the walls of the shed. The hooks can hold a variety of smaller tools such as trowels and secateurs. Bigger hooks can hold up shovels and forks, so choose the kind of hooks you'll get.
Use the Ceiling
When it comes to tool sheds, think of vertical space. You need to use every ounce of space available. You can put up a bike hanger or hoist system to store bulky bikes on the ceiling. Other tools and accessories can also be stored on the ceiling using shelves, large hooks, PVC pipes, and ply boards. Just make sure that these are the things you won't need daily as it will be hard to take them down and up again.
Organising your garden tools will make you a better gardener in the end. You'll be able to find the things that you need easily when you need them. It's a lot more enjoying to see how well-organised your garden tools and accessories are.