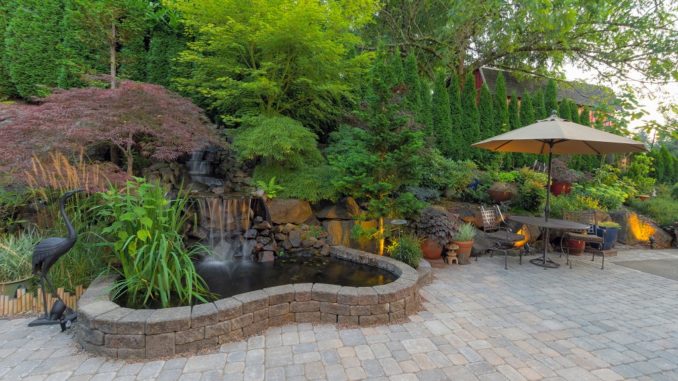 Gravel rocks are very versatile, reasonably priced, and come in many different designs. Available in various sizes and colors, gravel is perfect for patios and pathways. No matter the overall style of your garden is, there's a gravel option that will meet your needs.
Are you planning to use this nifty rock? Before going to your local garden supplies store in Utah to buy gravel rocks, learn the ideal combinations of gravel and different hardscaping materials.
Stone and Brick
If you want that classic garden pathway look with pea gravel, stone and brick are the ideal options for you because these complement gravel beautifully.
Fieldstone and Wood
Gravel has that naturally light visual appearance and is much easier to install than other types of hardscaping materials like mortared stone or concrete. Think crushed gravel in a warm hue and combine it with warmer stair treads bordered with fieldstone if you like that organic and subtle pathway look.
To keep the gravel rocks firmly in place, fill up the steps with a couple of inches of compacted rocks to build a solid base prior to topping it all off with an inch or two of gravel rocks.
Granite Cobblestones
Consider a crushed limestone pathway bordered with granite cobblestones if you're looking for that sophisticated, formal look. To tie everything together, install cobbles in certain areas of your garden like landing pads in front of doorways and your driveway.
Flagstone
Oddly shaped flagstones combined with gravel rocks is one of the most traditional combinations for hardscaping in patios and pathways. Think warm-hued flagstones and gravel paired with colorful plants as borders for a casual outdoor dining space.
To keep the gravel rocks from traveling up the pavers, place them on top of a compacted rock layer and keep the flagstones slightly above the level of the gravel. In addition, opt for crushed gravel rocks with jagged edges since they're better at staying in place than those with smoother edges.
Steel
Consider a crushed gravel pathway bordered with steel that leads to an open and airy lawn. The effect is a virtually invisible border of steel and dark tone of the gravel will highlight colorful blooms you plant along the way.
Corrugated Metal
This kind of metal in aluminum or steel, combined with dark-colored gravel, will look perfect on modern and edgy landscapes. Surrounding elevated plant beds with gravel reduces upkeep since it will help to suppress weeds and prevent pathways from being muddied.
Monochromatic Stone
Light-toned cut stone and warm-hued gravel rocks work together as a base of traditional Mediterranean-inspired garden. Complete the look with terracotta pots and jars with blooms or flowing ornamental grasses.
Contrasting Stone
Combining dark pavers with light-toned gravel rocks, or vice versa, will give your landscape that dramatic flair. This combination is especially ideal in contemporary gardens with minimal foliage.
Low-maintenance, affordable, and versatile—what more can you ask for in a hardscaping material? There are plenty of great options to choose from the list above. All you have to do is select one that will fit your home's aesthetic.