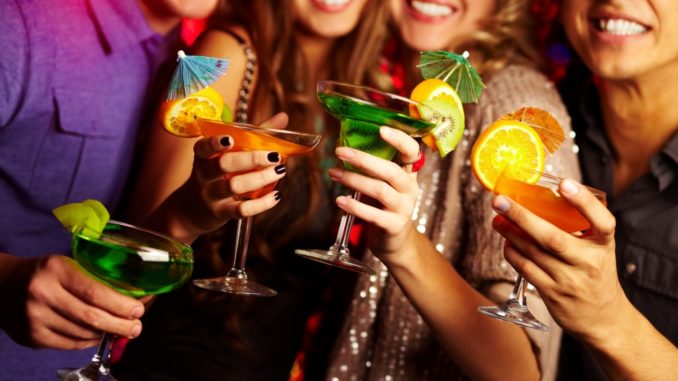 Are you hosting an event, throwing a party, or running a business? Why not serve up something special, like tropical cocktails?
You can easily whip up these 5 tropical-themed drinks, and they can definitely make your occasion memorable, or spice up your business menu. Here's how you can make them:
Lava Flow
This crimson cocktail got its name from its appearance; you'll see that it looks like molten lava. Unlike its red-hot inspiration, this cocktail is cool and refreshing. It's also easy to concoct. You'll need coconut rum, coconut cream, light rum, frozen strawberries, pineapple juice, and some ice. Classic recipes add half a banana, but some people find that adding it makes the drink too thick.
Don't let this cocktail's innocent appearance fool you; it can have a real kick.
Ingredients:
4 oz. coconut rum
4 oz. white rum
10 oz. frozen strawberries
8 oz. pineapple juice
8 oz. coconut cream
2 cups crushed ice
Fresh pineapple wedges
Procedure:
Combine the coconut rum, light rum, and strawberries in a blender. Blend until pureed, then transfer to a clean pitcher. Clean the blender out, then mix the pineapple juice, coconut cream, and crushed ice. Blend until the mixture is smooth. Fill four serving glasses halfway with the strawberry-rum mixture, then fill with the pineapple juice-coconut cream mixture. Marvel at the red mixture swirling around like molten lava. Finish with a pineapple wedge on each glass then serve.
Pineapple-Mango Rum Punch
Remember your Senior prom? This drink can be a throwback to your high school years, but this one has more of a tropical twist to it, thanks to the mango and pineapple juice. Punch goes way earlier than your prom (promise, we won't tell), as it was actually introduced to Great Britain through India, sometime in 1632. The word "punch" is derived from the Sanskrit word "panc", which means "five"— the number of ingredients that make punch. Originally, punch was made with sugar, lemon, water, tea or spices, and alcohol.
Ingredients:
½ oz. light rum
1 oz. dark rum
2 oz. mango puree
2 oz. pineapple juice
1 lime (juice only)
Ice cubes
1 dash grenadine (optional)
Procedure:
Place all ingredients in a cocktail shaker. Shake vigorously. Pour into a cocktail glass, and add a dash of grenadine if you like.
Mojito
The Mojito is yet another popular cocktail from Cuba, but its origins remain fuzzy. There are claims that it started out as a medicinal drink to treat fever or colds, and was created by Francis Drake, a privateer in service of Queen Elizabeth I.  It was first known as the Draque, Drak or Drac, and was made with aguardiente (a crude predecessor to rum), sugar, lime, and mint. Its recipe remained unchanged until Don Facundo Bacardi Masso replaced the aguardiente with rum. It was renamed Mojito.
The Mojito name's confusing origins are also a hot topic, yet it remains one of Cuba's most popular exports.
Ingredients:
2 oz. white rum
½ oz. freshly-squeezed lime juice
1 tsp. white sugar
1 club soda or seltzer
1 cluster of mint leaves
Procedure:
In a small Collins glass, stir the lime juice with the sugar. Add the mint leaves, mashing them against the inside of the glass. Fill the glass 2/3 of the way with cracked ice, then pour the rum. Add the club soda or seltzer.
Frozen Mango Daiquiri
Did you know that the first daiquiri was invented by an American mining engineer in 1898, in a small mining town with the same name, in southeastern Cuba? In the same country years later, renowned writer Ernest Hemingway would sample a daiquiri, judge it too sweet, then insist on a version with more rum and less sugar. That bar where he chugged his own version — now known as Papa Doble — is named El Floridita and is still open in Cuba. A bronze statue of Hemingway stands over his favorite spot at the bar—where a Papa Doble is presented to it every day. The classic daiquiri consisted only of rum, lime juice, and sugar, but this version is more tropicalized.
Ingredients:
2/3 oz. Lime Juice
1 oz Mango puree
1 ½ oz Spiced rum
1 mint leaf
Ice cubes
Procedure:
In a blender, place all the ice cubes. Toss in all the ingredients and blend until everything is mixed. Pour into a cocktail glass, then finish with a mint leaf garnish.
Piña Colada
This often-referenced pop-culture drink has its legends rooted way back in the 19th century. A Puerto Rican pirate named Roberto Cofresi mixed a piña colada and served it to his crew as a morale-boosting measure. Cofresi died in 1825, taking the original recipe with him to the grave; it's rumored that his recipe was a mixture of white rum, pineapple juice, and coconut milk.
It wasn't until the 1950s that the pina colada resurfaced, albeit claimed to be the brainchild of two bartenders who worked in the Caribe Hilton. The third claimant surfaced in 1963, a mixologist who worked in a restaurant close to the Caribe Hilton, Restaurant Barrachina. Regardless of who invented the cocktail, the pina colada has since been immortalized in song and featured prominently in at least one recent big-budget movie.
Ingredients:
½ cup pineapple pieces, diced and frozen
2 oz. pineapple juice
2 oz. coconut cream
1 ½ oz. white rum
1 oz. dark rum
1 ½ cups ice
Pineapple slices
Procedure:
Place ice, frozen pineapple pieces, juice, coconut cream, and both rums in a blender. Blend until the mixture is smooth. Pour into glasses of your choice and garnish with pineapple slices.
These 5 cocktails are sure to feel like a tropical vacation in a glass. They're simple to prepare and are bound to be a big hit with your guests. You won't have to worry about sourcing the ingredients, as coconut cream, rum, and even the mango puree are readily available.