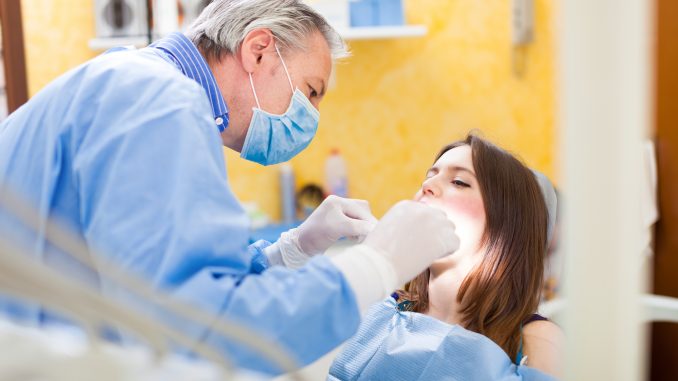 There are many different treatments that come under the umbrella of cosmetic dentistry in Kings Hill: teeth whitening, gum contouring, cosmetic braces and white filings to name a few.
One of the most versatile cosmetic procedures is porcelain veneers. These restorations cover up a multitude of blemishes. Whether a tooth is cracked, chipped, stained or slightly gapped, a veneer can help. These are fitted under the field of cosmetic dentistry in Kings Hill at practices in the area such as One Smile Oral Care.
What are porcelain veneers?
="Oral Health Foundation" href="https://www.dentalhealth.org/veneers" target="_blank" rel="noopener">Veneers are thin shells that are bonded to the front of the teeth. They are used on teeth that are healthy, but with a crack or chip, or a stain that can't be removed with whitening. Some stains are ingrained, which is one reason why it's advisable to get teeth whitening done by a dentist. Not only can the gel leak onto the gums due to poorly made whitening trays, the treatment may not even be effective if the stains are beyond the surface level. These types of stains are caused by certain medications, age and genetics.
Small gaps in the teeth can also be covered by veneers, meaning that the patient doesn't need to go through the lengthy process of having braces to get a more uniform smile.
How does the treatment work?
Two appointments are needed to fit veneers. At the first, the cosmetic dentist will remove a very thin layer of enamel to prepare the tooth to receive the veneer. This is so there is a rough surface for it to bond to. If needed, the patient can opt for a local anaesthetic. The dentist then takes an impression to give to the technician who makes the veneers. This is so they can make them the perfect size and shape to blend in with the surrounding teeth.
At the second appointment, veneers are bonded to the teeth using dental adhesive. This strong glue keeps them in place for up to 10 years. And the beauty of using porcelain for veneers is that, as a hard-wearing substance, it doesn't decay or stain.
Patients may also return for a third session, for their dentist to check and polish their new veneers.