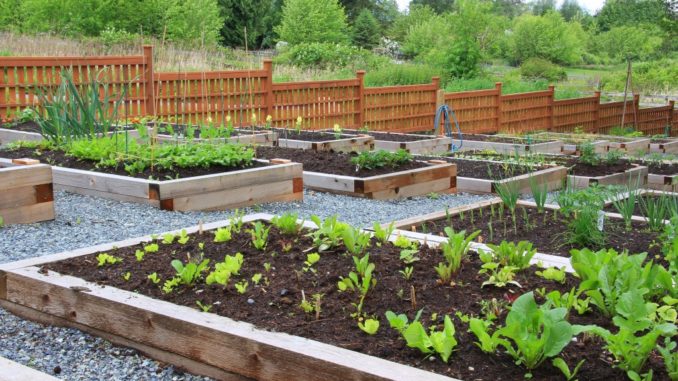 Vegetable gardening is popular because of how it helps homeowners to save money spent on food. Planting one plant can provide several pounds of vegetables over a single season. You don't have to buy your veggies at the grocery store anymore if you have a vegetable garden. You'll also discover that home-grown produce has a better flavor and texture compared to what you can buy at the store.
Step 1: Start a Bed
First, you have to plan what type of bed you want. Three types of beds are good options for starters like you.
Beginners mostly use raised garden beds in Utah because of their simplicity and ease of use. Materials are inexpensive, and the labor is non-intensive. Once you have a raised bed ready, you have to put fertilized soil in it. Alternatively, you can buy ready-made ones in garden supply stores.
You can also plant directly in the soil, of course. But first, you must till and fertilize the earth and create rows with mounds for planting. Just like raised beds, direct seeding in the soil is suitable for you if you have enough space in your yard.
If you don't have enough space, you can opt for planting in pots. It is also a great way of starting a vegetable garden if you live in a condo or apartment. You have to be conscious about the full size of veggies you'll grow in pots. Herbs grow nicely in containers, but cabbage and other large greens don't.
When picking a bed, you must also decide on its size. As a beginner, you should start with something small that you can easily manage.
Step 2: Choose the Right Location
Choose a place that gets a lot of sunshine. A successful vegetable garden is one that gets adequate sun time but receives a little shade in the afternoon. This will be a bit tricky, so plan it well. Observe how the sun falls in your yard and at what specific time of the day. You can take a few days to accomplish this.
Pay attention to shades as well. A tree in your yard or a neighbor's tree could provide some shade in the afternoon for your garden.
Step 3: Pick Your Plants
Next, before planting anything on your bed, decide whether to use seeds or seedlings in your garden. Would you rather start from scratch or something that's already sprouted, like young plants?
If you want to try out growing from seeds, certain veggies grow well when sown directly into the soil. Chard, spinach, lettuce, beans, carrots, and radish are some examples. If you prefer seedlings, choose plants that have excellent color, strong stems, and whole leaves.
After putting all your effort into planning and planting your garden, it's time to take care of it. Fertilize the soil regularly and always check for pests. You can use home-made pesticide or purchase one from garden centers such as For Every Garden. And don't forget to remove harmful weeds, too.