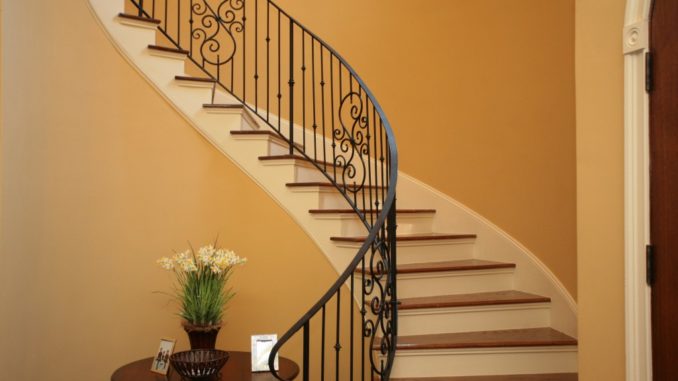 In modern architecture, the staircase has grown to become the centerpiece of interior design, rather than being a simple, functional element for getting people to your upper floors. To this end, you can no longer settle for the traditional designs for your staircase. When picking a design for your stairs, however, you will need to pay attention to more than its shape and fit into your available space.
A custom staircase design also considers the railing you will pick for your stairs. Your railing will not only determine the durability and safety of your stairs, but will also play a role in its aesthetic appeal. Though wood is the conventional choice for stair railing, some of the most exceptional designs are made of metal. This is because this material, unlike wood, can be forged and welded into the most intricate of designs. Here are your metal alternatives for the railing of an exceptional staircase.
Wrought Iron Railing
Wrought iron will have considerable durability and strength that allows it to last for ages when properly maintained. The material typically comes in black, but it might also have a decorative finish that gives it a gold or shimmery silver hue. Though there are several off-the-rack alternatives, your best choice lies in a customized design. This will have the right features, including rivets, bars, and rails, for the highest levels of safety for the occupants of your property. Though wrought iron railings can be used on outdoor and interior staircases, they are ideally used indoors since they are prone to rust when exposed to the elements.
Stainless Steel Railing
This is the ideal choice for a polished and clean look. It uses a blend of chromium and steel to make the stairs corrosion and rust-resistant. Consequently, these railings are great for both indoor and outdoor use. Several cable designs can be used for the creation of various designs on the railing, complementing any other stainless steel appliances in your interiors. Stainless steel railings are generally combined with glass panels, and are usually finished to have either a reflective polish or a muted satin surface.
Brass Railing
This lends your interiors a classic and elegant look. Brass is a zinc and copper alloy available in different shades ranging from gold to brown, red, and yellow. The copper in it will lend your railing natural anti-microbial properties. Brass railings will often tarnish with time when exposed to air, and their regular polishing and cleaning are essential to prevent tarnishing.
Copper Railing
This has a rich warmth that will add some color to your exteriors and interiors. This rail material will have a golden-brown reddish hue that, over time, becomes a green patina. This will prevent the corrosion of your railing. While it offers a natural anti-microbial option that averts the spread of diseases, copper is expensive as a building material.
When considering which among the above metal railings will suit your property, it is essential to aim for a balance between function and form. The professional joinery of your railing and stair treads is also essential. Some of the above materials might seem easy to install, but selecting an amateur to install them only exposes you to unsafe staircases and makes them more likely to fail.