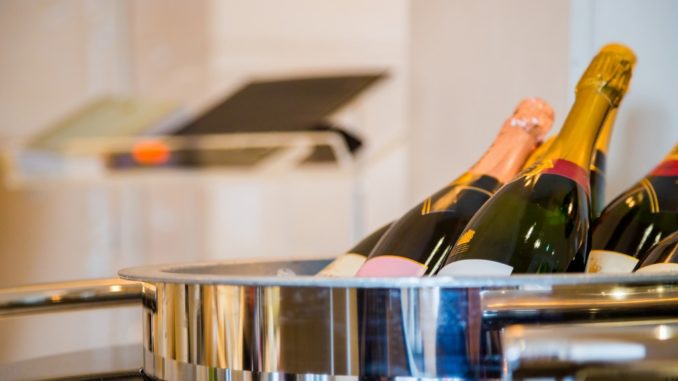 Prosecco is made with prosecco grapes in the Valdobbiadene region of Italy. It's made through a process called the tank method, which is specifically for small format sparkling wine. It starts with a base wine, followed by the sugar and yeast addition. A second fermentation process comes next. After which, the sparkling wine goes through classification and cooling. The last two steps involve the optional dosage in tank and then the filling and corking of bottles from a pressurised tank.
Here are four good reasons to drink this Italian bubbly:
A Different Kind of Flavour
Prosecco has fruitier, more floral aromas than Champagne. This is because the latter is aged longer on yeast particles, so the French bubbly will have a kind of cheese rind flavour that often tastes like toast.
A typical prosecco would evoke notes of honeydew melon, pears, green apple and honeysuckle with a hint of cream. It will taste a bit sweeter, so if you adore a drink that's a bit saccharine, prosecco's your bubbly.
Goes Well with Lighter Dishes
A palate brightening aperitivo prepares your palate for a sumptuous dinner. Alternatively, you could curate gift basket of prosecco that brings together everything that pairs well with the drink. Because it does taste a bit sweeter than Champagne, prosecco goes well with cured meats, like prosciutto and Asian dishes, like Thai noodles and sushi. You can even get creative with your snacks, like gourmet chips and flavoured pop corn.
It's crucial to choose the level fo sweetness to make sure your pairings go well. Prosecco comes in brut (up to half a gram fo sugar in a glass), extra dry (up to more than half a gram of sugar in a glass) and dry (up to a gram of sugar in a glass)
Posh Without the High Street Price
As mentioned earlier, prosecco is easier on the pocket than a French bubbly. An entry level bottle of prosecco may start at £10 to £20 while some bottles of Champagne may start at £12 to £40. Although you will be able to find a rather decent Champagne at £10, prosecco's economical production process is still friendlier on the pocket.
Prosecco is Good for You
Drinking a glass of bubbly is always good, whether you're celebrating a milestone or simply feel like getting a bit giddy. But drink just enough and this Italian sparkling wine can also be beneficial for your mind and body.
Researchers at the University of Exeter have found consumption of this type of alcohol can improve your memory. Prosecco drinkers in the study were able to recall information better than subjects who didn't touch the drink. That sounds a bit counterintuitive considering how alcohol tends to have a hazy effect on memory. The key, of course, is to drink moderation.
Aside from retaining information better, protection against diabetes, the common cold and advanced ageing are just some of the astonishing benefits of prosecco.
So the next time you have celebrate a milestone or come to a party and need to give the host something exquisite, try a bottle of prosecco.