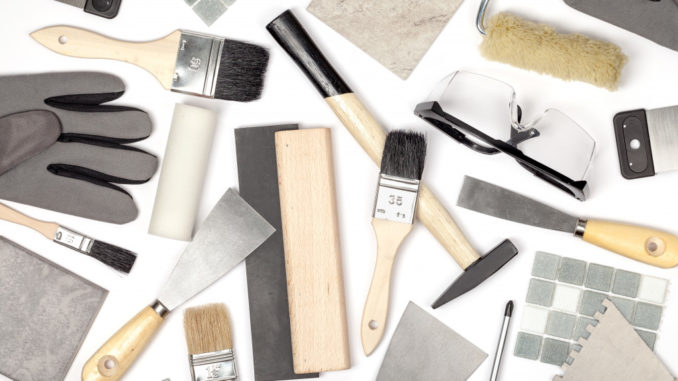 Since the economy started opening up after months of mandatory lockdown, large corporations and small businesses alike raced to set themselves apart in a saturated landscape. Not everyone survived, especially small businesses—over 160,000 businesses have closed since the COVID-19 crisis. Experts say one in five small businesses will have to close if the economy doesn't improve in the next six months.
Now more than ever, businesses need to be smart about how to proceed. Because small business owners have to contend with a recession on top of a pandemic, they also need to be wise about where they're allocating their resources. While many aspects of the business need to be entrusted to experts, there are some improvements business owners themselves can do to save some money.
If you're a small business owner who's opening up your brick-and-mortar store again soon, here are some DIY projects you can do to ensure your store's cleanliness and to improve foot traffic.
A well-stocked cleaning kit
Every house needs one, and so does every physical store. Especially now that the Centers for Disease Control and Prevention (CDC) has confirmed that COVID-19 can also be transmitted through airborne means, you need to be more proactive about the sanitation and cleanliness of your store. Once your store or workspace has been professionally and thoroughly cleaned, disinfected, and sanitized, the challenge is to keep it up. A complete set of cleaning tools can help you be quick to sanitize high-touch areas every time a customer leaves.
Here is a step-by-step guide to building a complete and well-stocked cleaning kit.
Find a storage space for all of your cleaning tools. Make sure that the area itself is clean.
Buy an open container or a cleaning caddy with compartments, depending on the tools you will keep.
Stock up on all the tools you need: Buy rags, rubber gloves, sweeper or broom, dustpan, a small vacuum cleaner, toilet brush and holder, mop, and a bucket.
For cleaning products, an essential list includes all-purpose cleaner, wood cleaner, glass cleaner, antibacterial wipes or spray, tile cleaner with bleach, magic eraser, baking soda, and white vinegar. Consider choosing products that have the "green" label on them. They produce fewer air pollutants and usually use eco-friendly packaging. If it meets the United States Environmental Protection Agency's (EPA) criteria, the products would have their label, which is the Design for the Environment (DfE) tag. Other products that claim they're "low VOC" or "no VOC" also mean they have a decreased amount of volatile organic compounds (VOCs) or none at all.
Cute DIY signs
What Fortune 500 companies will never have over small businesses is a custom approach and a sense of warmth. There's a reason family-owned, neighborhood coffee shops will always have a cozy charm and appeal over Starbucks. Store-bought signs tend to be soulless, too. When you go to a grocery store or a shopping mall, all of their signs are generic and look the same wherever you go. Give your store a unique touch by coming up with your own signs, especially now that social distancing is the norm, and you need to come up with visual reminders for your customers to keep their distance.
If it's in line with your brand identity, come up with handmade DIY signs for your store. Study basic calligraphy and make signs that go with your store's theme and concept. You never know—if they're creative and witty enough, your customers may even share them on social media.
A clean and organized pantry
After ensuring that your staff members get to breathe clean air and walk around in a well-sanitized space, make breaks fun and relaxing for them by making sure that your pantry is clean and organized as well. A well-organized pantry reduces duplication and spoilage and frees up and maximizes whatever space you have. It will also make your employees feel cared for and could increase productivity for them.
Reusable market bag
One way to discourage the use of plastic among your customers is by providing them with a sustainable yet stylish alternative. To give your eco-bag a chic update, consider creating a yarn bag inspired by the French market bag. With some yarn and two knitting needles, you can make a classy grocery bag that your customers would want to use for a long time. You can sell it, or give it as a price or reward to loyal shoppers.
Do It Yourself for Yourself and Your Customers
It's been a tough year for businesses across the board, and owners need to keep infections low without hurting their bottom line. By doing these projects yourself, you do your part in protecting your employees and customers from the virus without breaking the bank.