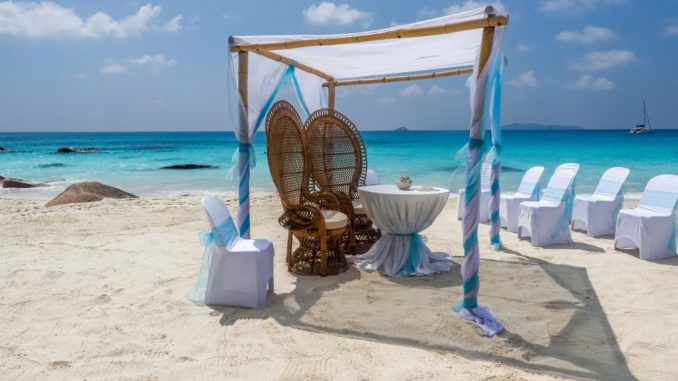 Beach weddings are one of the most picturesque kinds of weddings. There is something very magical as having the sea as your natural backdrop. It is also a carefree venue as compared to its enclosed counterparts. But, there are certain considerations when you want to push through with a beach wedding.
Location of the Reception
There are beach weddings that have the same location for both the ceremony and reception. Others choose to move the reception to a covered area. In Malibu, you can have your wedding catering on the beach or in a covered area. The food selection will depend on the location. Food is easily spoiled when in hot conditions. Some melt in direct sunlight. Thus, it is more advisable to have the reception in an air-conditioned or a well-ventilated setup. Beach weddings often offer a taste of the locale's fresh seafood. Tropical fruits are also incorporated in foods and drinks.
Time of the Day
The best time to hold beach weddings is early mornings or before sunsets. The natural lighting for both times would help in your photographs as well. But, even with this time frame, it is still a thoughtful act to provide some shade for your guests. Think of a canopy of white cloth or hanging colorful umbrellas to shield your guests from the heat. Beach weddings should also be short. Another considerate act is to set up a refreshment table for the guests. Ice-cold water or fresh lemonades would keep your guests hydrated.
Attire
Beach weddings give off a light and relaxed vibe. The couple and the entourage must choose a fabric that would not impede movement. Attires for beach weddings lean more on simplicity. The bride should forego ballroom wedding gowns because it would be hard for her to move. A bridal dress that flows with the breeze is the most convenient choice. A veil is also not a good idea for a beach wedding. The wind will only make a mess out of it. It would be better to have flower accessories, instead. An updo is the most logical hairstyle at a beach wedding. The bride would not want her tresses getting on her face during her big day. Keep the heels inside a shoebox. Stylish flat sandals will help the bride be comfortable as she walks down the sandy aisle. Bridesmaids could go for stylish sundresses.
The groom and his groomsmen are not supposed to sport a heavy coat and tie combination. It would make them sweat throughout the ceremony. Light pants and a summer shirt is the way to go.
The invitation should have some suggestions for appropriate attire for guests. There should also be a shoe station. Provide flip flops in exchange for the guests' shoes.
Sound System
The sound of the waves is very pleasant to the ears. But, it could also work against you. If the wind carries off the sound of the waves, it might be too hard for your guests to hear you or the officiant. Make sure that you have a good sound system. It might be a little tricky because of the scarcity of electrical outlets. But, your guests must hear your wedding vows well. Also, practice the people who will speak at the ceremony. Make sure that they deliver their readings fluently and audibly.
Beach weddings may be a bit challenging because of many special considerations. Nature can be unpredictable, so it is best to always have a back-up plan. When planned and executed well, a beach wedding will give you beautiful memories.